THE RIDE Experience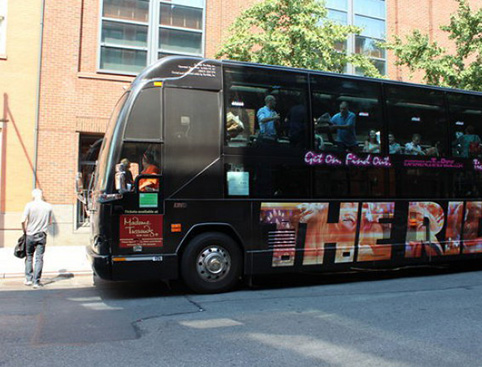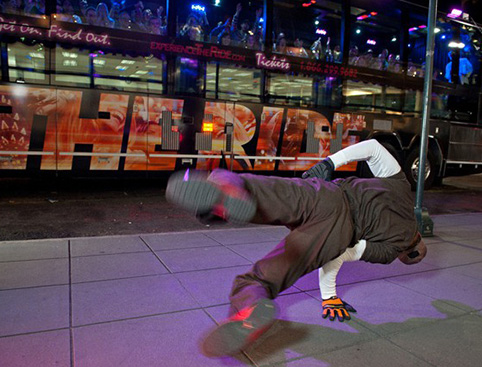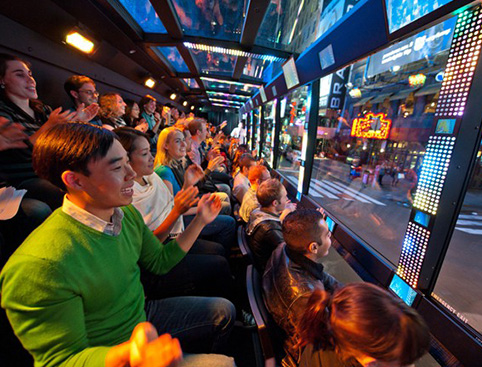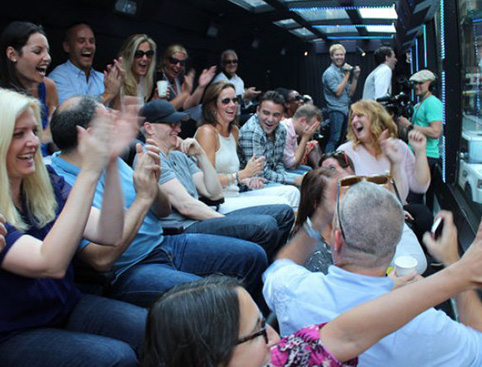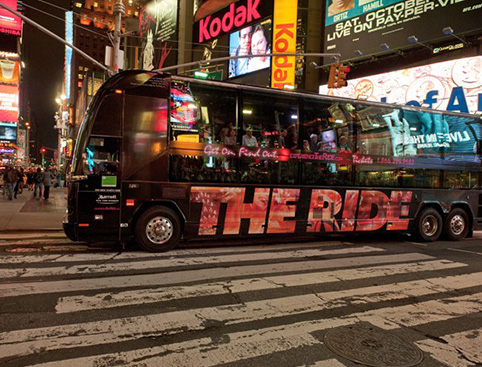 Starting from
£65

per person
THE RIDE uses New York City and its renowned landmarks as the backdrop for a theatrical event that blurs the boundary between tour and performance. The city becomes a stage, and soon you can't tell where the street ends and the show begins!
THE RIDE gives you a front-row seat to the streets of New York City in a multi-million dollar motor coach that comes equipped with state-of-the-art audio/visual technology, including 40 plasma screen TVs and over 3000 LED lights. Enjoy the performance from the comfort of one-of-a-kind stadium seating and huge panoramic windows.
While navigating a 4.2-mile midtown path, the performers and native New Yorkers alike become performers for THE RIDE along your way, showing you an entirely new side of New York City you can't see anywhere else!
Whilst being bedazzled you will also see all of the major tourist attractions around New York such as:
Times Square
The Chrysler Building
Grand Central Station
Bryant Park
NYC Main Branch of the Public Library
Empire State Building
42nd Street
Shubert Alley/Broadway theatres
6th Avenue Skyscrapers
Carnegie Hall
Columbus Circle
Central Park
Enjoy extra-special themed surprises on THE RIDE Holiday Edition between 16 November 2017 - 7 January 2018, when seasonal New York City magic is brought to life!
Important Information:
Tickets for THE RIDE can't be refunded once booked. 100% cancellation charges apply.
Tours depart between 2-9 times a day on specific days between 12pm and 9pm, depending on the time of year.
If you have a preference on time then please let us know in advance, otherwise we will just pick an available time for you.
Tour takes approximately 75 minutes and returns to 45th Street and Broadway.
Please redeem your voucher at The Ride Box Office, Inside the Gift Shop, 584 8th Avenue (between 38th and 39th Streets and across the road from the Holiday Inn.) open between 9am and 9pm.
There is also another Box Office located at 1200 6th Avenue at 47th Street should this be more convenient to you. Operating hours there are between 10am - 4pm.

All Rides depart promptly at your confirmed performance time from 42nd Street and 8th Avenue. (The line forms in front of Senor Frogs Restaurant; look for "THE RIDE" employees in bright orange shirts.)
Please be in line at least 15 minutes prior to your departure time!
The Ride is not wheel-chair accessible and you will need to climb stairs to enter The Ride
Children under 6 years old are unfortunately not permitted on the coach.
Important Information: Tickets for THE RIDE can't be refunded once booked. 100% cancellation charges apply.
When you've Booked: You'll receive an initial confirmation from us immediately. We will then send your booking details to the supplier within 48 hours to request confirmation. Once they confirm that your requested date and ticket is available, we will email your confirmation which will include the local operator's contact details and any relevant information.