Graceland Wedding Chapel - Let's Get Hitched Packages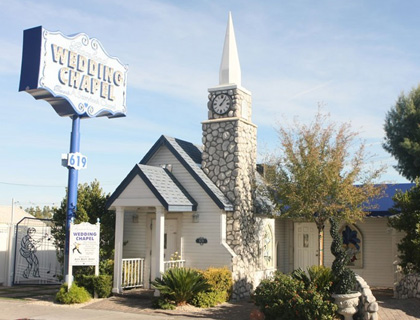 Starting from
£319

per person
Welcome to Las Vegas, the wedding capital of the World! Get married at the Graceland Wedding Chapel and choose the Let's Get Hitched Package to arrive in our luxury stretch white limousine in true Vegas style!
Graceland Wedding Chapel is one of the most recognised chapels in the world. In its 60 years of history it has appeared in several movies and has had a host of celebrities and bands walk through their doors such as Elvis Presley, Johnny Depp, Salma Hayek and The Beastie Boys.
On your day your limousine will await you at your hotel and you'll be chauffeured to the marriage license bureau to obtain your marriage license (don't worry, the whole process takes about 15 to 20 minutes).
Once you've secured the license, you'll then be brought to the wedding chapel where your ceremony will take place, after you've briefly met with your minister.
A beautiful rose bouquet will be given to the bride and a boutonniere will be presented to the groom. A professional photographer will be there to take photos of your memorable event.
As husband and wife now, your chauffeur will drive you both back to your hotel after the ceremony, unless of course you decided to take the DELUXE option, in which case you'll be whisked off on our limo-photo tour!
Please indicate at the time of booking an approximate time you wish for the ceremony to take place (morning, afternoon, evening) and if you have a preference of colour in the flower arrangement (Red, White, Peach or Pink.)
You are welcome to bring your own music (on a CD or mp3-player) but please note that songs need to be condensed to 30-45 seconds in total. Please mention that you want to bring your own music upon booking!
PRICES ENLISTED ARE PER PACKAGE (not per person) so please just book one package suitable to you for your special day!
Please note this package is non-refundable once booked - 100% cancellation charges apply.
Please note it's not necessary for you to go to the marriage license bureau to obtain a certificate for this ceremony.
Your ceremony includes:
Roundtrip stretch white Lincoln limousine transfer.
Use of chapel with wedding music.
Brides' Rose presentation and groom's boutonniere.
Professional Photography.
12 poses from which to choose: (6) 4x6's and (1) 8x10.
Some useful information:
Graceland Wedding Chapel is usually open between 9am and 11pm.
Ceremonies are not possible on 14th February in any year and please note that any ceremonies scheduled for 31st December will not provide limousine service in the afternoons due to closures of the Las Vegas Strip.
Ceremonies can be performed in English, Spanish, French, German, Japanese and Portuguese. Please let us know asap if a language other than English is required!
For special Translation Services available in Italian or Dutch an additional charge of $75 is applicable, payable locally.
Limousines will seat up to 8 persons maximum but for maximum comfort 6 is advised, handy if you'd like to take along some of your favourite people.

The chapel does not charge extra for additional guests and accommodates up to 40 people.

All gratuities, Minister's fees and taxes are included within your booking.
Please note: Any photographs of the wedding that are inclusive in your package will be offered to you in printed format. If you wish to receive photographs in a digital format than you will require to pay extra for this service. Please enquire when in resort.
This package is non-refundable once booked - 100% cancellation charges apply.
When you've Booked: You'll receive an initial confirmation from us immediately. We will then send your booking details to the supplier within 48 hours to request confirmation. Once they confirm that your requested date and ticket is available, we will email your confirmation which will include the local operator's contact details and any relevant information.